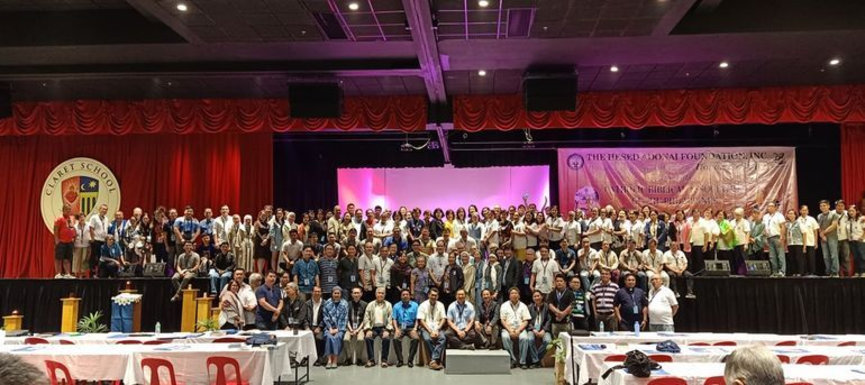 CBAP 20th Annual Convention - Quezon City (Philippines), August 31 and September 1, 2019
The Catholic Biblical Association of the Philippines (CBAP) held its 20th Annual Convention at Claret School, Quezon City, Philippines on August 31 and September 1, 2019.
---
The participants reflected on the verse "Stay with us…" (Lk 24:29) with the theme Bible, Youth and Social Realities. The keynote speakers were Most Rev. Pablo Virgilio David on the topic "The OT Prophetic Oracle of Judgement: Its Relevance to the Philippine Church in the Time of Duterte's Drug War" and Prof. Reimund Bieringer in a Video Conference on the verse "I will pour out my Spirit upon all flesh, and your sons and daughters shall prophesy (Acts 2:7)…"

With Bishop David on the first day was Rev. Federico Villanueva who shared his reflections on the topic "Duterte, the Bible, and the "War on Drugs": A Biblical Scholar's Response. These papers and reflections sparked many interesting questions and insights among the 198 participants coming from different Bible groups.

Aside from these talks there were also concurrent sessions held on other topics of biblical relevance like that of Rev. Fr. Fruto Ramirez SJ who shared on "Melchizedek, a Minor Character of Great Importance in Biblical Theology "; Fr. Emilio Valeza on "Jun Impas' the 'Prodigal Son': A Study on Biblical Interpretation through Visual Arts" ; Dr. Abigail Teh on "Re-symbolization in the Aftermath of Cultural Trama: Ezekiel 40-48"; Dr. Lysander Rivera on "A Re- reading of Rom. 8:18-23 in the Light of New Cosmology"; Dr. Edgar Ebojo on For Adults Only: The Living Text, the Empire , and the Tambay.

More Bible scholars came up with their reflections on the second day. Rev. Fr. Cristino R. Pine, OFM read his paper on "Young Jeremiah's Vision of the Rod of Almond & Boiling Pot #youth #Woke #ClimateEmergency". Dr. Annie del Corro explained the rationale behind the New Testament Pinoy Version, Fr. Randolf Flores, SVD exposed verses relevant to GMRC in the Wisdom Books and Fr. Alejandro Gobrin, CMF gave a Re-echo of the Catholic Biblical Federation Conference held in Rome last April.

A comprehensive synthesis of the two days' event was given by Sr. Nimfa Ebora PDDM before the celebration of the Holy Eucharist presided over by Fr. Rogel Abais, SJ. We all thank God for these two enriching days of sharing, camaraderie and reflection of the Word of God which is here today and forever.
Source: ECBA