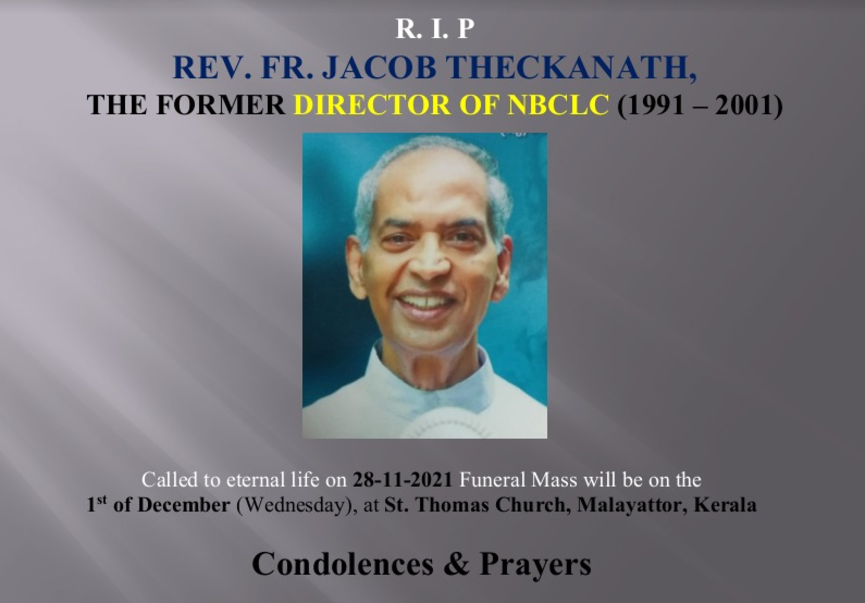 + Reverend Father Jacob Theckanath
The Asian Catholic Church mourns the death of Father Jacob Theckanath, a 79-year-old Indian priest, who played a significant role in evangelization. Father Jacob Theckanath, former CBF South Asia Regional Coordinator (1990-2002) and former executive secretary of Federation of Asian Bishops Conferences (FABC) Office of Evangelization (OE), died on November 28.
---
+ Reverend Father Jacob Theckanath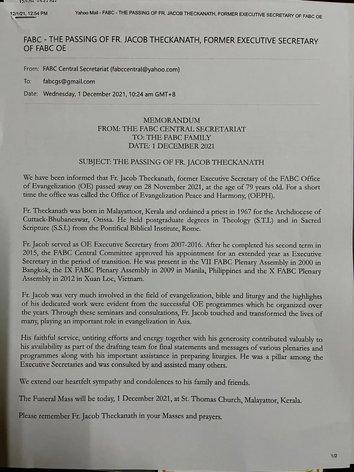 MEMORANDUM
FROM: THE FABC CENTRAL SECRETARIAT
TO: THE FABC FAMILY
DATE: 1 DECEMBER 2021
SUBJECT: THE PASSING OF FR. JACOB THECKANATH
We have been informed that Fr. Jacob Theckanath, former Executive Secretary of the FABC Office of Evangelization (OE) passed away on 28 November 2021, at the age of 79 years old. For a short time the office was called the Office of Evangelization Peace and Harmony, (OEPH).
Fr. Theckanath was born in Malayattoor, Kerala and ordained a priest in 1967 for the Archdiocese of Cuttack-Bhubaneswar, Orissa. He held postgraduate degrees in Theology (S.T.L) and in Sacred Scripture (S.S.L) from the Pontifical Biblical Institute, Rome.
Fr. Jacob served as OE Executive Secretary from 2007-2016. After he completed his second term in 2015, the FABC Central Committee approved his appointment for an extended year as Executive Secretary in the period of transition. He was present in the VII FABC Plenary Assembly in 2000 in Bangkok, the IX FABC Plenary Assembly in 2009 in Manila, Philippines and the X FABC Plenary Assembly in 2012 in Xuan Loc, Vietnam.
Fr. Jacob was very much involved in the field of evangelization, bible and liturgy and the highlights of his dedicated work were evident from the successful OE programmes which he organized over the years. Through these seminars and consultations, Fr. Jacob touched and transformed the lives of many, playing an important role in evangelization in Asia.
His faithful service, untiring efforts and energy together with his generosity contributed valuably to his availability as part of the drafting team for final statements and messages of various plenaries and programmes along with his important assistance in preparing liturgies. He was a pillar among the Executive Secretaries and was consulted by and assisted many others.
We extend our heartfelt sympathy and condolences to his family and friends.
The Funeral Mass will be today, 1 December 2021, at St. Thomas Church, Malayattor, Kerala.
Please remember Fr. Jacob Theckanath in your Masses and prayers.
Tags: Regions Asia Asia South India Members