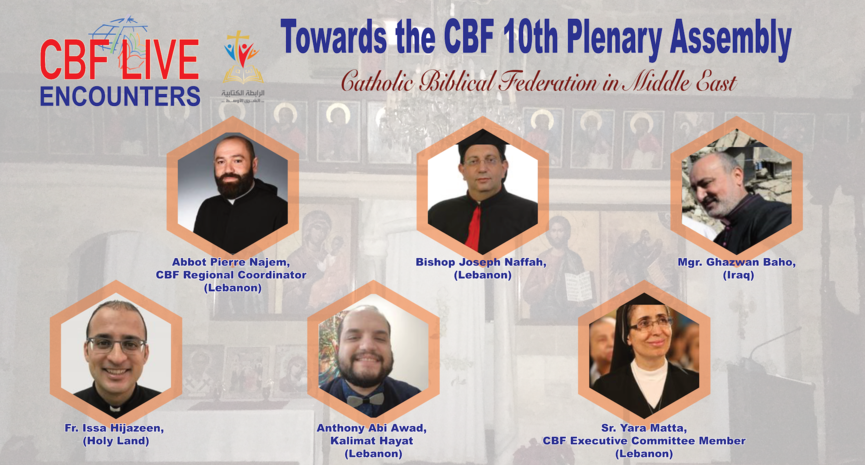 Towards the CBF 10th Plenary Assembly: Catholic Biblical Federation in Middle East
On the way towards the CBF Plenary Assembly we would like to present the reality and future perspectives of the Middle East Region in the interventions of some representatives of the institutions that compose it.
---
All of them are committed to witnessing a focus on biblical formation and biblical animation of pastoral care in this area of the world.
The Encounter will take place on May 21st, 2021 at 11:15 GMT (14:15 Beirut Time). It will be hosted by the General Secretariat of the Catholic Biblical Federation in cooperation with the Friends of the CBF.
Towards the CBF 10th Plenary Assembly
Organized by: CBF General Secretariat
Topic: Catholic Biblical Federation in Middle East
Date: May 21st, 2021
Time: 11:15 GMT (14:15 Beirut Time)
Language: English, Français, Italiano
Live streaming:
CBF Regional Coordinator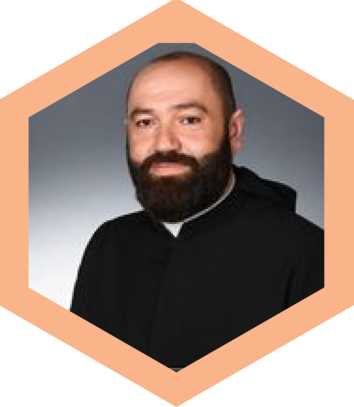 Abbot Pierre Najem
Coordinator CBF Middle East
Superior General of the Maronite Order B.M.V.,
President of Notre Dame University (NDU).
Master in Biblical Sciences from the Biblical Pontifical Institute in Rome (Biblicum).
Diploma in Marian theology from the Pontifical Marian Institute (Marianum)
PHD in Business Administration from Paris.
Teacher of Ancient languages (Greek- Hebrew- Syriac) in different universities in Lebanon.
He has many articles and monographs, especially about the Gospel of John.
Academic lecturer.
(Lebanon)
CBF Executive Committee Member - Delegate from Middle East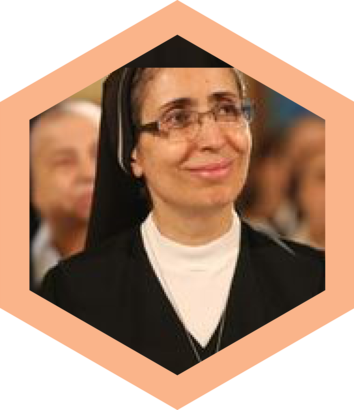 Sr. Yara Matta
Member of the CBF Executive Committee
Delegate of the Council of Catholic Patriarchs of the Middle East
Assistant Professor, Theologicum, Paris
Main research area: Biblical exegesis
Principal research project: New Testament and old Jewish literature
Master in French Literature, 1994 (Lebanese University).
Holder of a canonical phd in theology. 2010 (Institut Catholique de Paris).
Professor of New Testament in l'ICP Institut Catholique de Paris, in Institut Théologique d'Auvergne - Clermont-Ferrand and in Lebanon at the Pontifical Faculty of Theology - Kaslik and at the Saint Joseph University in Beirut.
Thesis Director at ICP Institut Catholique de Paris.
Academic lecturer in France and Lebanon. Many monographs, and scientific articles published. Animation of Radio-TV programs and of groups of continuous formation.
(Lebanon)
Lebanon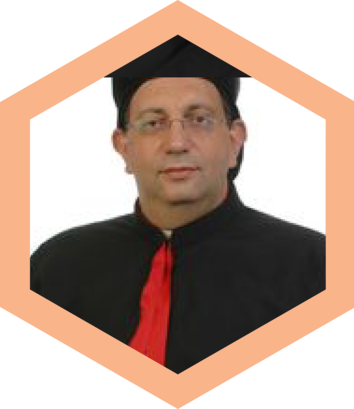 Bishop Joseph Naffah
Patriarchal vicar of Jubbe and Zgharta. Patriarchal visitor for the Arabic Peninsula Countries.
PHD holder in Biblical Theology from the Pontifical Gregorian University, Rome.
Scholar of biblical courses in different universities, in Lebanon and USA.
Coordinator of online program teaching of Theology in Arabic language.
(Lebanon)
Iraq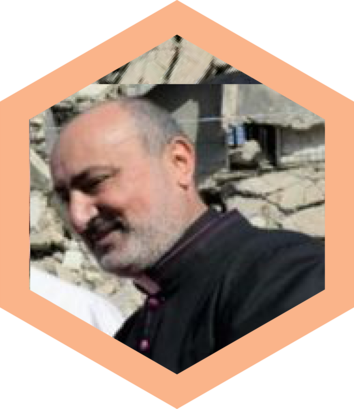 Mgr. Ghazwan Baho
From the Chaldean Catholic Church of the Patriarchate of Babylon of the Chaldeans, Diocese of Alqosh / Iraq.
Doctor of Biblical Theology (Pontifical Urbanian University - Rome).
Member of the Middle East Biblical Federation and has published several articles in the Middle East Biblical Conference.
Invited professor in the linguistic faculty at the Pontifical Urbanian University (2009). Teaches Sacred Scripture at Babel College in Iraq (the Faculty of Philosophy and Theology, an affiliate of the Pontifical Urbanian University in Rome), and director of the Theology Faculty at Babel College (2010). Rector of Babel College in Iraq from 2017-2019.
Animator of the Biblical Federation in Iraq (2017).
Vicar general of the bishop in the diocese of Alqosh (2021).
(Iraq)
Holy Land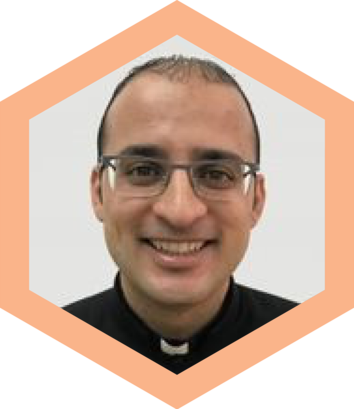 Fr. Issa Hijazeen
24/08/1999: Joined the Latin Patriarchate Minor Seminary
14/11/2008: Ordained Deacon by Patriarch Fouad Twal at Our Lady of the Annunciation Parish in Beit Jala
25/06/2009: Ordained Priest by Patriarch Fouad Twal at the Sacred Heart of Jesus Parish in Tilaa el Ali, Amman
2009: Priest Assistant at the Minor Seminary
2010: Vicar, Immaculate Conception Parish in Birzeit; B.A. in Biblical Theology at Franciscan Studium Biblicum (Flagellation Convent) Old City, Jerusalem
2010: Biblical Studies, Studium Biblicum Franciscanum, Jerusalem
2011- 2015: Studies and week-end Pastoral Activities in Beirzeit and Ain Arik
2015: Priest Assistant and Bible Studies Professor, Latin Patriarchate Seminary; Member, Palestinian Bible Society.
30.01.2016: Licentiate in Biblical Studies
2016: Animator and Professor, Bible Studies at the Seminary; Member of the Palestinian Biblical Federation
August 2019: Parish priest in Our Lady of Fatima in Beit Sahour
(Holy Land)
Kalimat Hayat (Lebanon)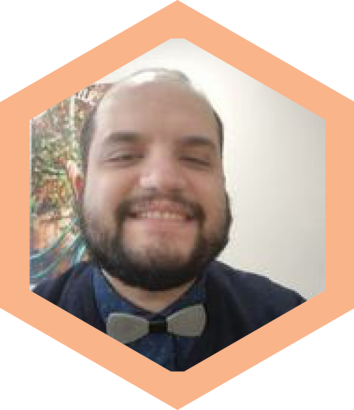 Anthony Abi Awad
MA in Theology.
Member of Kalimat Hayat (Word of Life) since 2012.
Studying for a Master of Theology in Biblical Studies at Boston College.
(Lebanon)
Moderator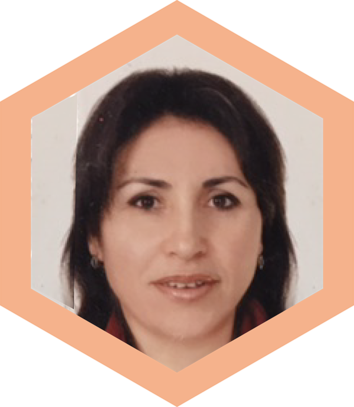 Dott.ssa Amal HAZEEN
(Rome)
© CBF General Secretariat