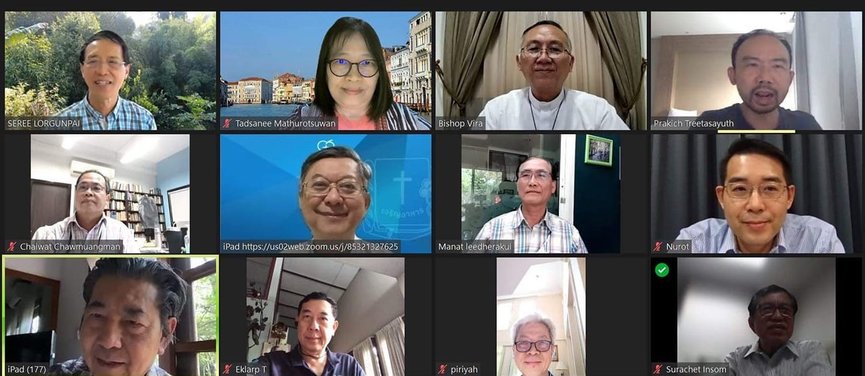 Biblical Coordination Meeting in Thailand
Online Meeting of the Board Meeting of Directors in Thailand which includes their Bible Apostolate took place via Zoon on March 2, 2022.
---
Bishop Vira Apornrat, Secretary-General of the Roman Catholic Council of Thailand and chairman of the Catholic Committee for theology Christianity Department, Teacher Tassanee Mathurasuwan, Member of the Christian Dharma Department and Father Piyachat Makonkhan, Vice Chancellor, Archdiocese of Bangkok Representing Catholics joined the meeting with the Thai Christian Association. Pastor Thongchai Pradubchananurat was the chairman and Ajarn Prakit Tritasayut, the new secretary-general, conducted the meeting.
The meeting was called to consider the mission of the association to progress even further with the presentation of the vision and direction of the Society for the 5 years 2022 -2027: Bible translation, Small scribes and adult scribes 2022 events, Super Tiny Scripture Competition 2022, Bible book distribution service, Study Bible books, etc.
The next meeting is scheduled for 29 June 2022.
Source: CBF SEA UPDATES
Tags: Regions Asia South-East Asia Thailand