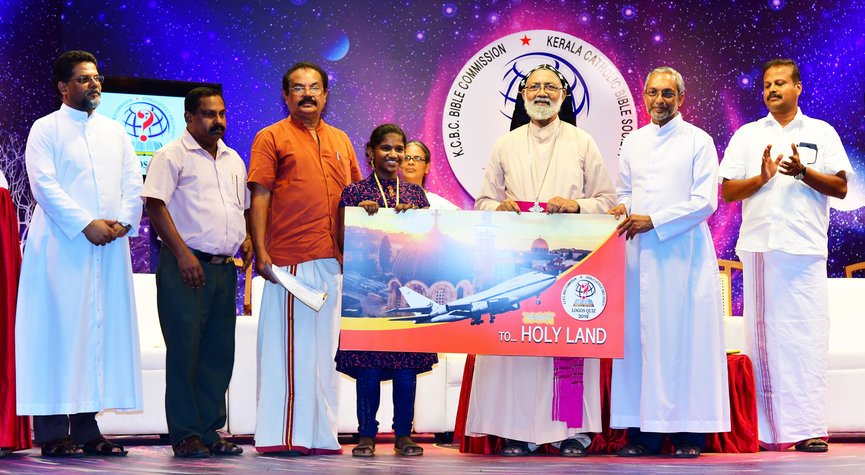 Kerala Logos Bible Quiz: An Initiation to the Bible
Logos Bible Quiz for Bible study was started by the Bible Commission of Kerala Catholic Bishops Council in the great Jubilee Year 2000 and it is conducted every year in different parts of India.
---
This study programme is accepted by the faithful with great enthusiasm and now we have almost 600,000 participants every year. The methodology is very simple. Every year different parts of the Bible are prescribed for the quiz. This year, for example, study material consists of sections from Deuteronomy, Sirach, Mark and 1 Corinthians. The preliminary examination is conducted at diocesan level in four different languages for six different age groups. Though the competition is conducted for all age groups, majority of the participants is children and youth. The eldest participant in 2019 was 99 years 'young'. The winners of the first level examination participate in State level competitions. For the final rounds, the participants are expected to have general knowledge regarding the Bible. The interest with which even the children participate in this programme is astonishing. Surprisingly, the first prize winner of Logos 2019 was an eleven year old girl, Mettilda Johnson. The decisive final question to which she gave the right answer was "Who is the president of CBF?" It is a proud moment for CBF! This girl has now a great dream: to study the Bible in Rome. This bible quiz is now made open also to the differently-abled section of the community. The final of the quiz for the deaf was also telecast in Christian TV channel. The message that this initiative sends out is very clear: the Word of God must be made available to everyone.
Tags: Regions Asia Asia South India Kerala Biblical Ministry